Families were granted last visits on Thursday as executions loomed for 14 people on death row for drug trafficking in Indonesia, a lawyer said.
The lawyer,
Antonius Karwayu
, who represented two of the convicts, said that the convicts could face a firing squad at the Nusa Kambangan prison complex off the coast of Java.
"The families have been notified that there would be executions and the convicts had been asked for their last wishes. Their families were given until 3PM today (about 9AM Nigerian time on Thursday) to visit them so it is likely that the executions would be carried out tonight," Karwayu said.
The Attorney General's office has not announced a date for the executions but spokesman,
Muhammad Rum
confirmed that 14 convicts would be executed soon.
The Community Legal Aid Institute,
LBH Masyarakat
which advocates for the convicts, said the convicts facing execution were four Indonesians, six Nigerians, two Zimbabweans, one Indian and one Pakistani.
See the names below: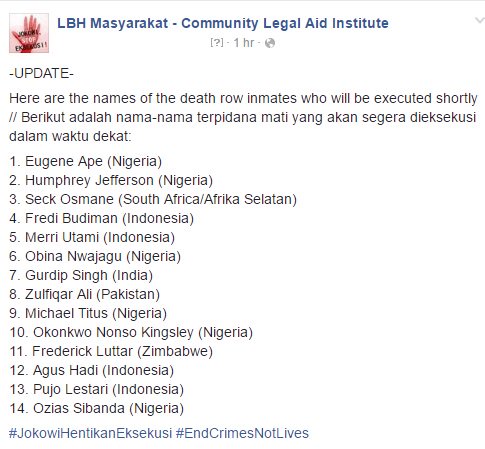 Source: BellaNaija